Generate Smarter and Complex
Questions
PrepAI incorporates Bloom's Taxonomy concepts to create questions
that require higher-order thinking.
Advanced AI solution to create higher-order
questions from any content instantly
PrepAI offers a quick and easy solution for creating questions that require the ability to think critically
and use reasoning skills. The best part is that you can use it for free.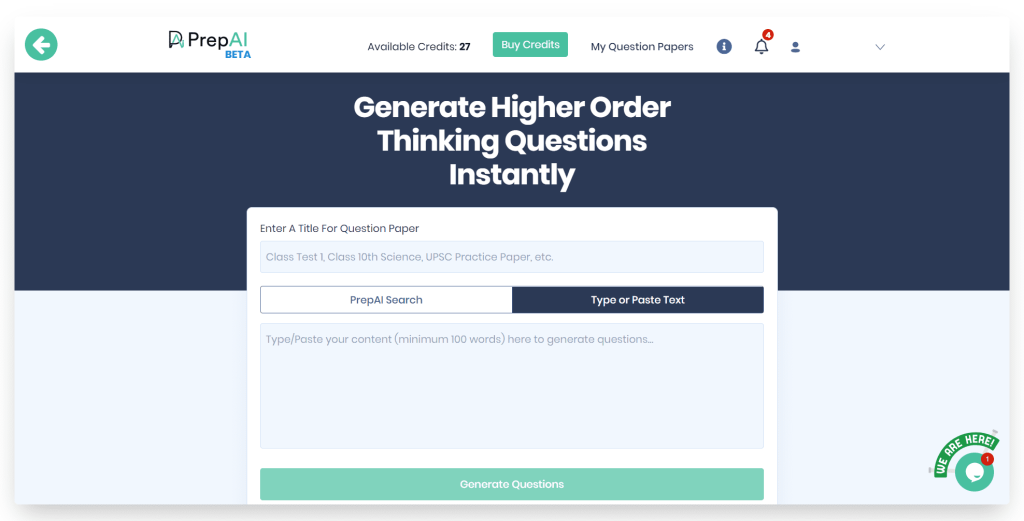 How does PrepAI generate such complex questions?
Bloom's Taxonomy it is! The AI model has been trained as per the Bloom's Taxonomy theories. Bloom's taxonomy is a hierarchical classification method used to segregate the candidates' learning objectives as per complexity and specificity. Simply put, it helps better evaluate the candidates' understanding of the subject and for effective learning.
Classification of educational goals
As per Bloom's taxonomy, there are 6 cognitive levels
Knowledge
Remembering or retaining information such as facts, concepts, words, etc.
Comprehension
Understanding the information and making sense of it.
Application
Using the knowledge acquired in a new situation.
Analysis
Exploring relationships between different components of the information.
Synthesis
Coming up with something new using the knowledge gathered.
Evaluation
Making judgments and defending opinions as per the information learned.
What are the types of questions you can generate using PrepAI?
There are various types of questions that PrepAI can generate as
per the Bloom's taxonomy models, such as: