Upskilling has taken the business world by storm – and it's easy to determine why. With the digital world continuously evolving, the disparity between what your employees possess and what they need to stay ahead of the curve is ever-increasing. It's up to the HR professionals to ensure the workforce has all of the necessary skills in order to thrive. Investing in upskilling and talent development will not only benefit your staff, but it'll also give your organization that competitive edge it needs to stay current.
Nowadays, in order to achieve success, organizations need to ensure their goals and Learning & Development initiatives go hand-in-hand. Better alignment between the organization's objectives and employee learning and growth objectives is necessary for a successful outcome. Additionally, with the ever-increasing demand for new skills, reskilling and upskilling can help companies have the necessary abilities to succeed. In this article, we'll dive into how you can develop successful upskilling programs for your company.
---
What is Upskilling
Upskilling is the practice of enhancing, updating or improving existing skills with additional training and education. It's something you can do for yourself, as well as teach to others. For example, you could participate in a virtual summit to gain insight into industry trends.
---
What is Reskilling
Reskilling employees involves teaching employees new skills to transition into a new role within the same company. It's also a great method of moving an individual who is better suited for a different job, yet somehow ended up in a totally disparate one.
---
Difference Between Reskilling and Upskilling
It's important to remember that the two processes differ from each other. Reskilling is when you learn entirely new skills for a distinct role while upskilling involves enhancing one's own skills. Let's get into it in detail.
Reskilling
Training employees to pick up an entirely different set of skills in order to switch roles within the company. This happens when the tasks they used to do become obsolete, usually due to technological advancements. Companies often prefer to train their existing employees for new roles as it's challenging to find someone who is both familiar with the company and can seamlessly fit into the team. All that's required is to provide training to update their skills for new systems and capabilities, which could involve obtaining a degree, certification, or education in a different field or specialty.
Upskilling
Rather than completely changing job roles, upskilling involves enhancing existing skills and making the most of the individual's specialist area. By gaining new knowledge, employees can become more qualified for more demanding tasks and make progress on their chosen career path.
---
Benefits of Upskilling Employees
Upskilling your workforce has many advantages. With a strong, rounded skill set, both employees and the organization get benefited by the process. Let's discuss in detail the benefits of upskilling employees: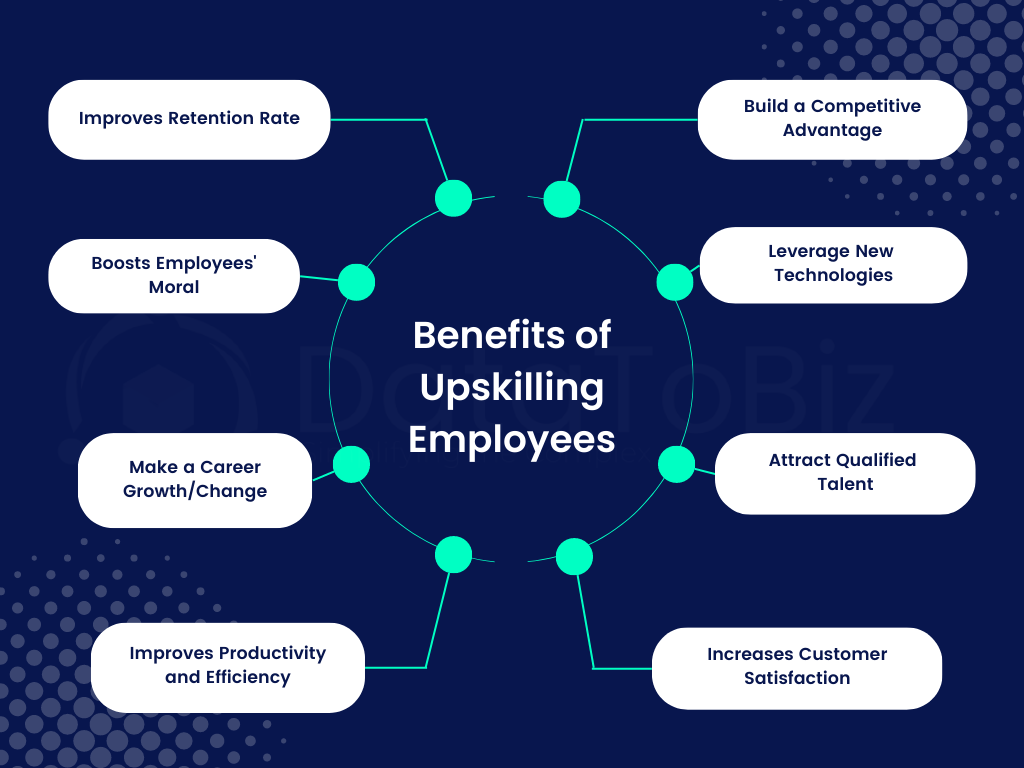 Improves Retention Rate
Employees are looking for roles where they can grow professionally. This is why reskilling and upskilling initiatives have become increasingly vital. Top organizations understand that these initiatives must go beyond the basics, and should be aligned with their goals and the workforce's current and future needs. When workers are aware of the importance of their job and consequently feel more motivated, job satisfaction increases, employee turnover decreases, and there are positive effects on the company's finances.

Upskilling Boosts Employees' Moral
Providing employees with training and development opportunities will make them more satisfied with their roles, and give them hope for a brighter future with the business. Upskilling your employees enables them to find pathways for career development and makes them enthusiastic about what is ahead. Knowing that they are working towards something that can improve their lives gives an even greater sense of purpose. Motivating your employees and giving them solutions to grow professionally is your primary responsibility of management and with such learning and development programs for employees, you are being true to your responsibilities.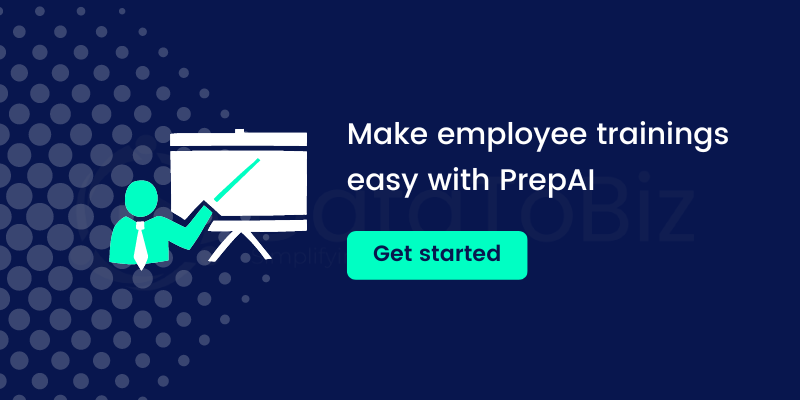 Make a Career Growth or Change
Upskilling your employees can give them the ability to switch up their careers. The skills they gain could easily get them a promotion or a new position in a different department in your company. It's essential to give careful thought to any new opportunities that come their way and, if feasible, as a sudden change might not be as comfortable at first, so be flexible with your expectations from your employees. Consider what makes the most financial sense for you and your employee before making any decisions.

Improve the Productivity and Efficiency of Your Employees
Investing in upskilling programs for your employees is a great way to boost productivity and ensure that your business thrives. To ensure that your employees always perform at their highest level, they need access to high-quality training opportunities that will help them reach their full potential. But, such programs should be initiated for employees that have long-term plans to stay in the organizations as such training is not just expensive but time-consuming for both employees as well as the management.
Build a Competitive Advantage
The greatest detriment that a business can face is the loss of experience and knowledge when an employee departs. This means that businesses have the knowledge necessary to succeed in their field. By having members of your team with up-to-date skills, you will be able to give your company an edge in the marketplace and ensure its success for years to come. Employees' experience and skill do leave an impact on the clients as well as competitors if marketed well. Generally, organizations market their skilled or certified employees as professionals on their websites which grabs the attention of visitors.
Leverage New Technologies
New technology and tools have become a challenge for employees who are not familiar with them. Also, with AI being incorporated into organization upskilling the employees have become a necessity to introduce them to the new technology. Hiring new talents to work with the latest technology can be more expensive than training your employees. Organizations planning to introduce the latest technology and tools should consider upskilling and encourage their employees to learn and contribute more to the organization. This way you will be able to leverage new technology, save cost and increase productivity at the same time with the same workforce.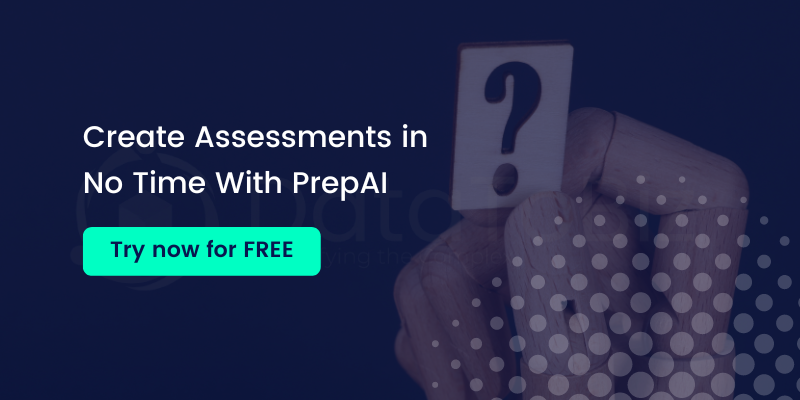 Attract Qualified Talent
Employees who feel they have opportunities to grow and move up within the company are highly sought-after in the job market. These days job seekers look for extra benefits like upskilling programs to stay competitive and skilled with professional courses and training. Promoting your upskilling programs is an effective way to attract and retain talent. This works well while hiring freshers or while campus recruitment where job seekers consider this as a perk why to join your organization.
Increases Customer Satisfaction
When employees are empowered and invested in their workplace, they do a better job. Upskilling your team keeps them informed about the latest developments in their industry, enabling them to provide more informed advice to clients, and making them more likely to pay for your services. When clients are happy with the work you do, they become strong advocates for your business.
---
Benefits of Reskilling Your Employees
Reskilling your employees is an essential part of any successful business. It ensures that your employees are up-to-date with the latest industry trends and technologies, and it helps them to stay competitive in their respective fields. Reskilling your employees can help to improve productivity, reduce costs, and provide a better customer experience.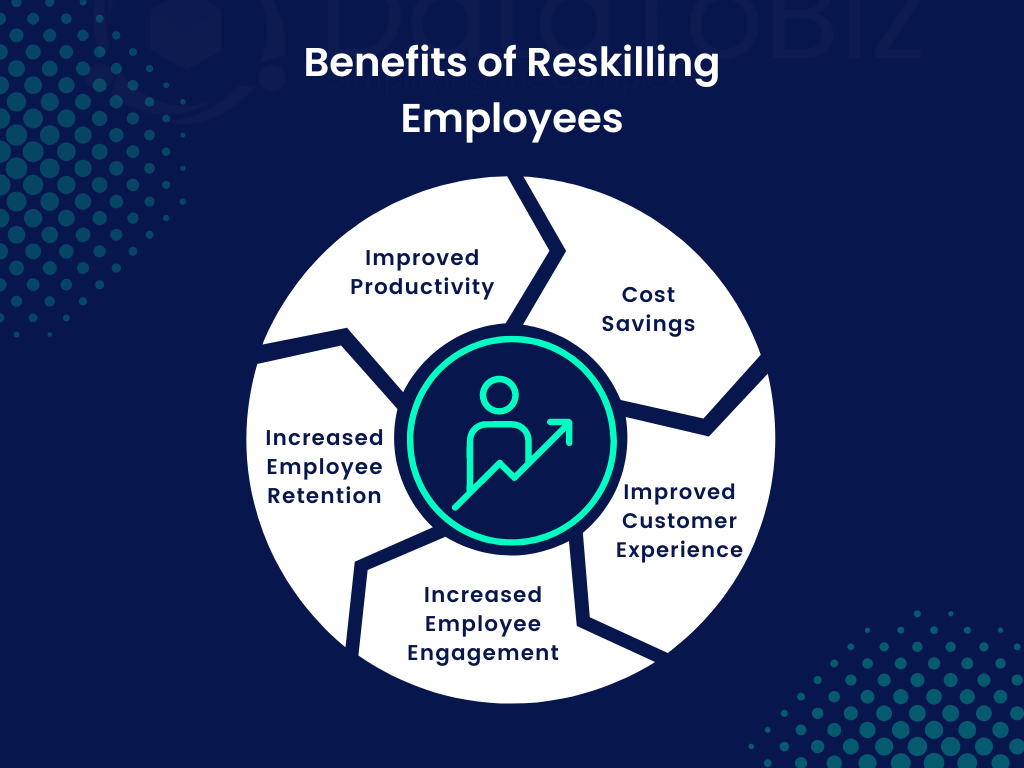 Improved Productivity
Reskilling your employees can help to improve their productivity by providing them with the latest knowledge and skills. This can help to increase their efficiency and enable them to work faster.
Cost Savings
Reskilling your employees can help to reduce costs. By providing them with the latest industry knowledge and skills, you can reduce the cost invested in hiring new staff for the same role.
Improved Customer Experience
Reskilling your employees can help to improve the customer experience. By providing them with the latest knowledge and skills, they can better understand and respond to customer needs and expectations.
Increased Employee Engagement
Reskilling your employees can help to increase employee engagement. By providing them with the latest industry knowledge and skills, they can feel more connected to their job and more motivated to succeed.
Increased Employee Retention
Reskilling your employees can help to increase employee retention. By providing them with the latest industry knowledge and skills, they can feel more secure in their job and more likely to stay with the company.
---
How to Upskill Your Workforce
Now that you understand why upskilling is beneficial for your business, here are a few ways to make it happen for your workspace:

Provide training and development opportunities that are accessible and cost-effective for everyone. High-performing employees should certainly be the focus of your initiative, but ensure that everyone has access to those opportunities; you may be surprised who takes advantage of them.
Give employees control over their personal development plan, enabling them to make decisions about their career progression. When staff members have the freedom to choose the areas in which they develop, they tend to take greater ownership of their personal and professional growth.
Recognize and reward employees for their upskilling efforts. Incentivizing them upon completion of training will emphasize its importance, while positive recognition contributes to a more satisfied and productive workforce.
Work with different learning styles. Some employees might benefit from a traditional classroom setting with an instructor; others may prefer to take courses online; yet others might do better with microlearning which is watching 15-minute videos on specific topics. Offering something for all learning styles ensures maximum employee participation and engagement.
---
How to Reskill Your Workforce
As businesses continue to evolve and the workforce is required to stay up-to-date with the latest skills and technologies, reskilling your workforce is essential to ensure your business remains successful. Reskilling your workforce is a process of providing employees with the opportunity to learn new skills, gain new knowledge, and become more adaptable to the changing environment.
Reskilling your workforce can be a daunting task, but it is essential to remain competitive and ensure that your business is well-positioned for future success. Here are some tips to help you reskill your workforce:
Identify the Void
The first step to reskilling your workforce is to identify the skills gap. This means assessing the current skills of your employees and determining which skills are needed to meet the demands of the current business environment. By identifying the skills gap, you can better understand what type of training and development is needed to bring your employees up to speed.
Develop a Training Plan
Once you have identified the skills gap, the next step is to develop a training plan. This plan should include the specific skills needed to meet the demands of the current business environment, as well as the timeline and budget for training and development.
Utilize Technology
Technology can be a great asset in reskilling your workforce. There are a number of online tools and platforms that can help you develop and deliver training to your employees. Utilizing technology can help you save time and money while still providing quality training to your employees. AI-backed tools such as PrepAI, can be helpful in the process of creating assessments in no time.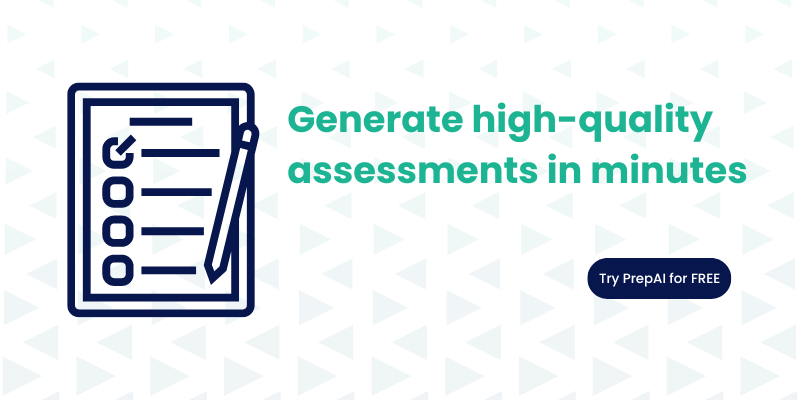 Encourage Employee Engagement
Employee engagement is essential for successful reskilling. Encourage your employees to participate in the training process by providing incentives and rewards for the successful completion of the training. Additionally, make sure to provide feedback and recognition for employees who demonstrate mastery of the new skills.
Measure Results
Finally, it is important to measure the results of your reskilling efforts. This will help you determine whether the training was effective and if any additional training is needed.
---
Methods to Upskill and Reskill Your Employees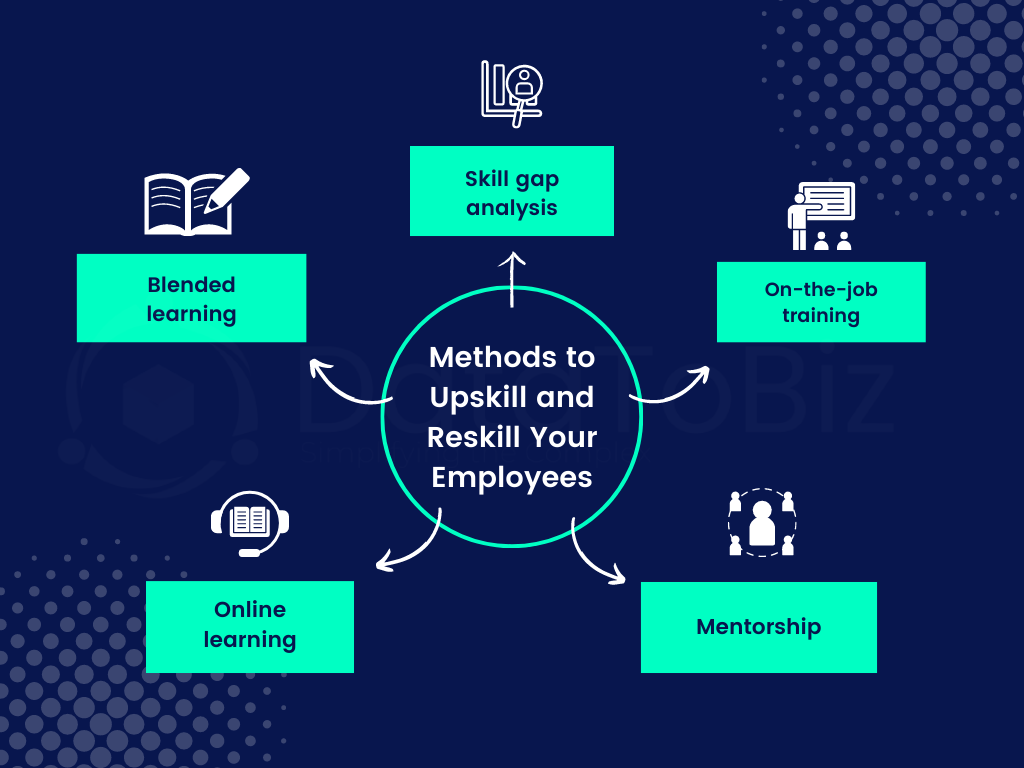 1. Skill gap analysis
Perform a skills gap analysis, comparing the abilities your organization needs to stay competitive with those of your existing employees. This will reveal the gap in capabilities among your workforce.
2. On-the-job training
Approaches such as on-the-job training can be helpful. For instance, job shadowing is where an employee observes the work and routine of another worker while learning how to do the job themselves. The manager's feedback can help identify the areas where his/her team member needs to improve and training sessions can be planned accordingly.
3. Mentorship
Mentoring facilitates is a common way of learning by encouraging employees through informal conversations to become more motivated and curious about what they're learning. It could also be useful for succession planning. Most organizations strictly follow mentorship programs where the team leads, professionals, and managers delivery regular sessions on team queries and focus on new skill-learning discussions and knowledge-sharing sessions.
4. Online learning
Online learning is an effective and affordable way to develop employees. Some companies create their virtual training courses, while others use services like LinkedIn Learning or Coursera. Another way of online learning is organizing expert sessions or seminars for employees in the organization by arranging the learning sessions on the premises.
5. Blended learning
This is another option that organizations can opt for as it combines on-site and online learning to ensure knowledge retention. This type of employee development program is beneficial for those who learn differently. This works well when the employees are facing a language barrier or difficulty coping with the training or online session speed.
---
Conclusion
Businesses need to stay competitive in today's environment and that involves proactively investing in upskilling and reskilling employees. This not only helps the organization meet its long-term goals but also puts the employee in a position to better align their learning and education needs with those of the business.
For employees, this kind of investment gives them a sense of ownership and accountability, driving them to work hard to fulfill both their personal goals as well as those of the organization. For the employer, it leads to a more engaged workforce that is more motivated to reach their objectives.